Our Mission:
BFF is a platform for culture within our community that creates opportunity, exposure and experiences.
---
News and Events
Check out these BFF Happy Hour specials!
Burrito Envy
Free chips/salsa with purchase of food or drink
Full House Bar
$2.00 draws, $7.00 pitchers, $4.50 Jaeger & Vegas Bombs, $4.75 wing special (10)
Reverb Lounge
$1 Genesee cans
$1 off menu cocktails & craft and import taps
$2 domestic taps (dad beers) (4pm-7pm)
1912
(11am-7pm) BFF Specials on the Roof
Aromas
$1 off all cupcakes and rolls after 5 pm. Use the walk-up window!
Infusion
$3 Hoptasm Double IPA pints and free food while supplies last! (3-6pm)
Mantra
(4:30-6pm)
$6 small plates, $1 off all beer, $2 off all wine and $6 house cocktails
Taita
Discounted drinks and appetizers
Jane's Health Market
Discounted wheatgrass and carrot shots
Pizza Shoppe
$3 whiskey shots and $1 PBRs
Jake's Cigars
$1 off tap beers
The Sydney
$1 off tap beers
Krug Park
$3.75 wells, $1 off American tap beers
The Beercade
4 quarters with every draft beer
Jerry's
$5 pitchers/$4 Jameson
Benson Brewery
$3.50 pints, $1 off wells
You're welcome.
Dear BFFs:
December is here! This means KRAMPUS. This means the BFF Holiday Artist Market. This means the BFF "Feed the Need" Food Drive. This means Benson Neighborhood Association CAROLING. This means new releases of BFF SWAG. This means the BFF Music Showcase at the Barley Street Tavern. This means the "Rolling Stones" BFF Group Show at Star Deli.
And so much more.
Whoa.
And let's hear it for Patrick Holm, this month's poster artist. Whoa.
Step Right Up, Get Your BFF Swag
Want to show your support for BFF? Buy some merch!
The 2016 BFF Swag Line - designed by artists Mike Bauer, Dustin Bythrow, Cody Luce and Julia Mason - features Ts ($25), hats ($20), koozies ($3) and buttons (5 for $2).
All are available for sale at Paperdoll Vintage Boutique, 6107 Maple Street in beautiful downtown Benson. Run on over and get yourself some.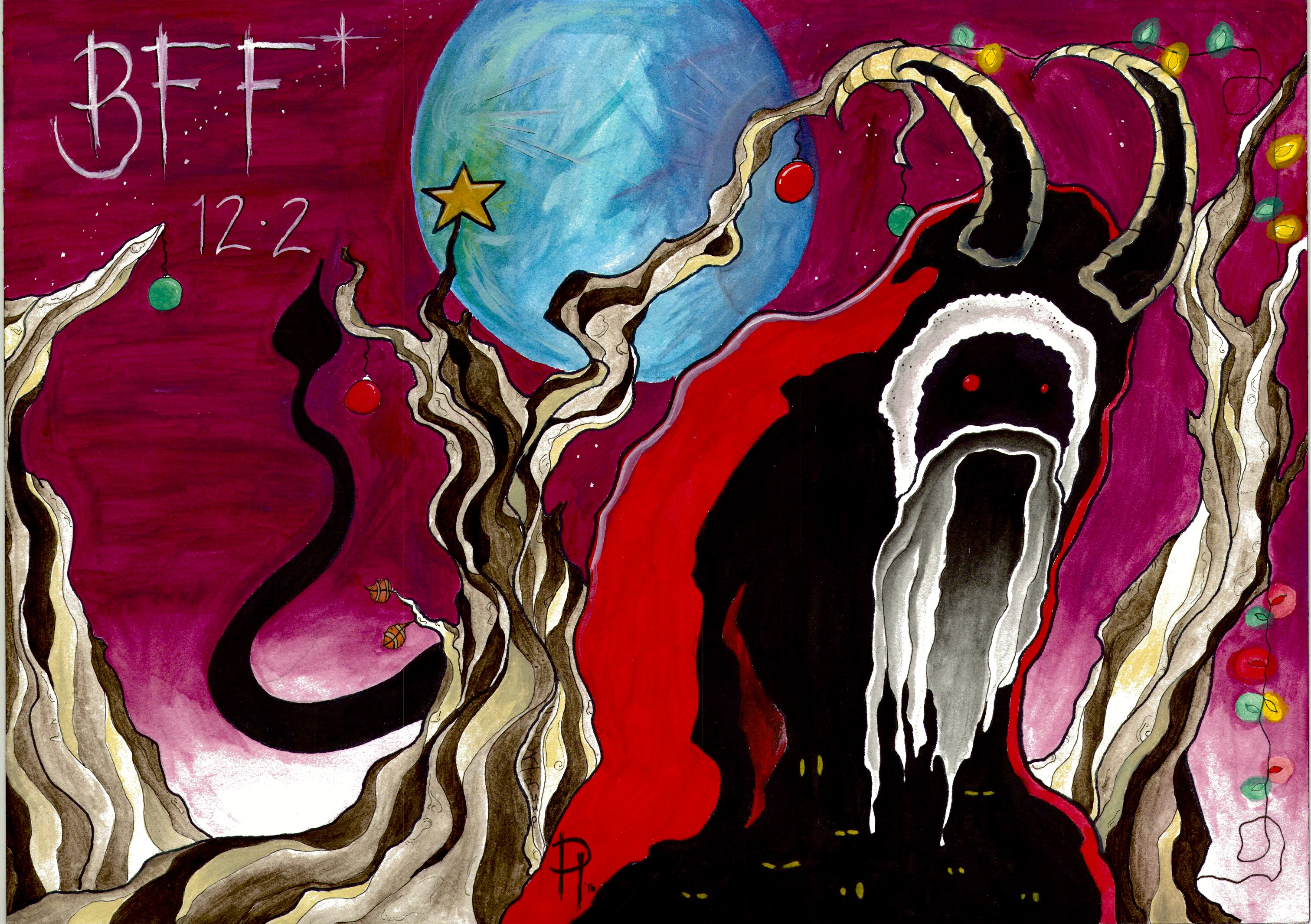 Programs

BFF is expanding from an event-based nonprofit to one that includes exciting programming!
Take a look.

BFF is rooted in its events! Find out what we're planning for future fun!
Find out more.

BFF is completely volunteer based! See how you, too, can lend a hand!
Read more.